The Board of Education has scheduled a Work Session on September 20 at 6pm in the CHS library. This is a public work session of the Board for the purpose of discussing Board goals. There will be no public comment portion of the meeting and it will not be lived streamed.

Chatham's varsity football game against Cambridge-Salem will be played at Salem High School (not at Cambridge). Game time is Saturday, Sept. 16 at 1pm. Go Panthers!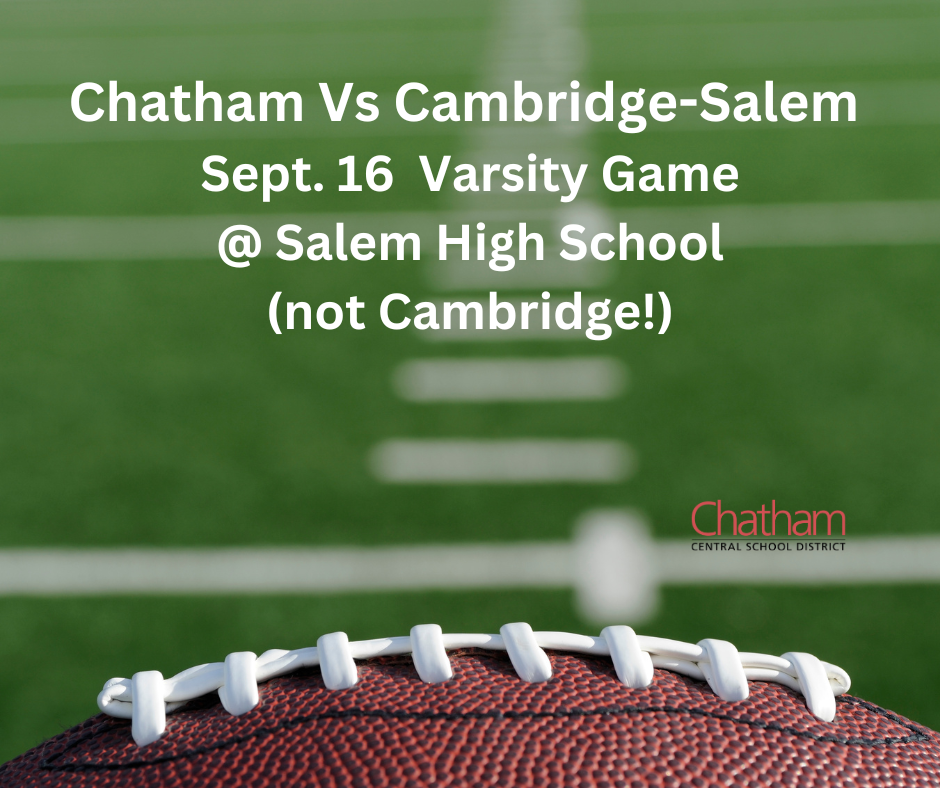 Chatham Athletic Booster Club Homecoming Mum Sale fundraiser - order your mums by September 25! Download printable order form at
https://5il.co/24wz9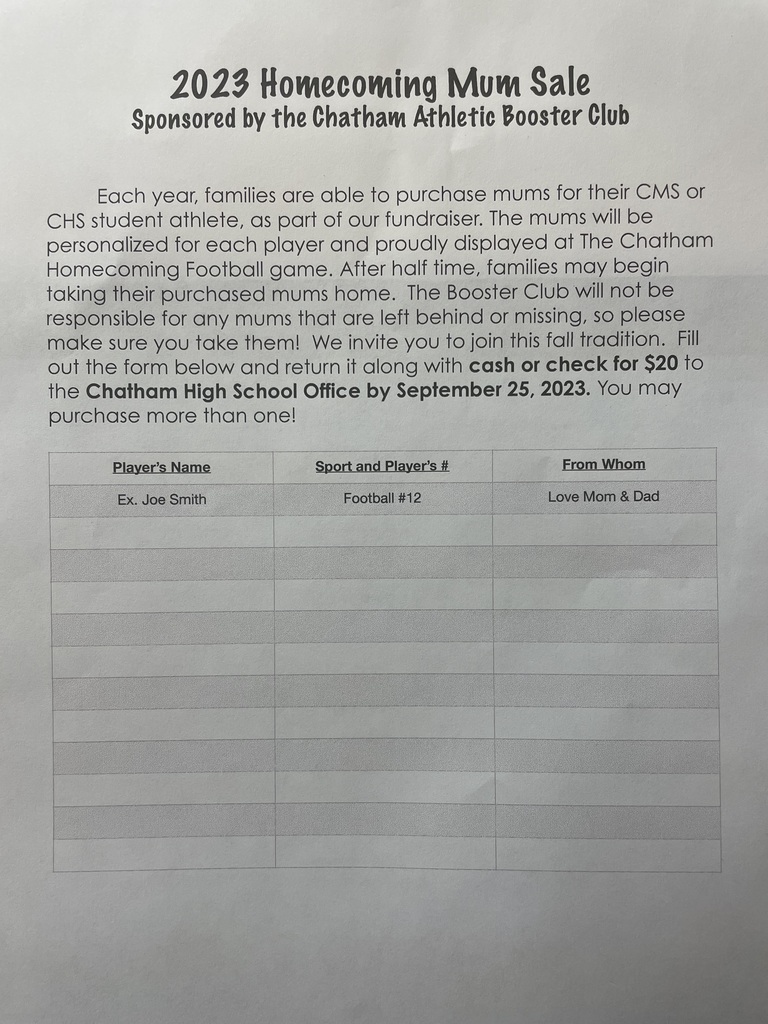 "Let's Talk About Our Kids' Mental Health," a free presentation for CHS & CMS parents presented by Chatham CSD and The JKC Foundation on Thursday, September 21 from 5-6pm in the CMS auditorium. This program explores important topics concerning adolescence and anxiety, depression, and stress management. You are also welcome to attend this event virtually (live stream) using the following link:
https://us02web.zoom.us/j/83976585762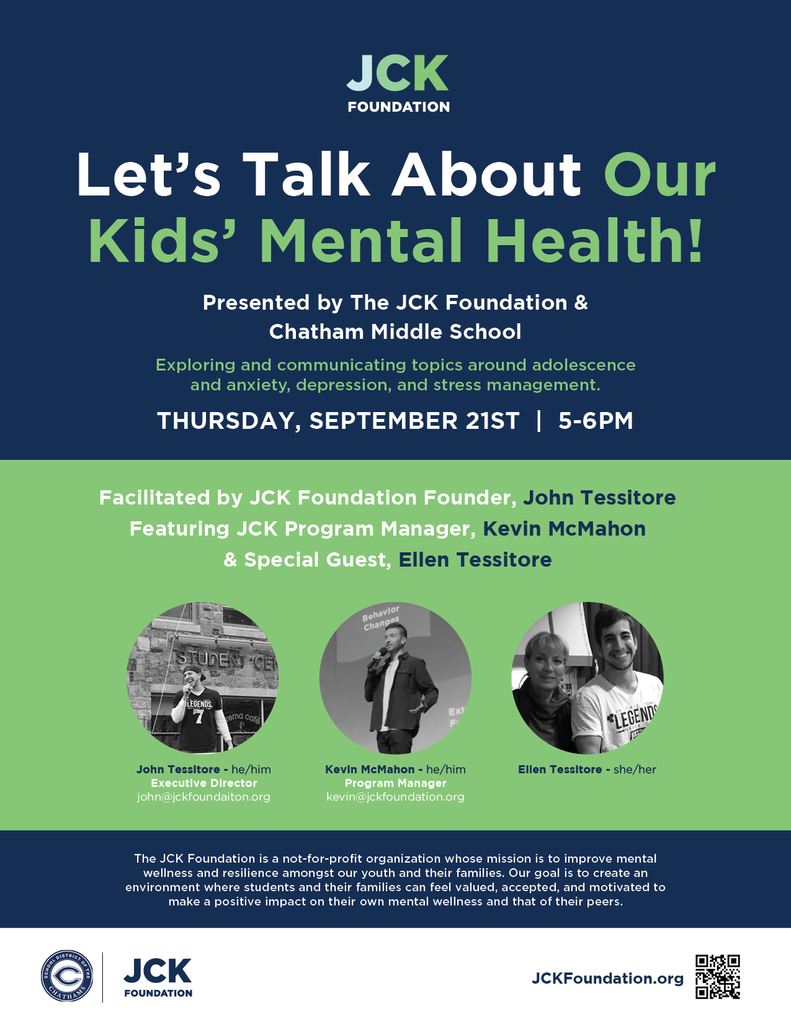 The Board of Education has scheduled a Board Work Session on Wednesday, September 20, 2023 from 6:00-8:00 p.m. in the CHS library.

Attention Chatham CSD community, Please do not park in the bus loading zone in the high school parking lot at times of arrival or dismissal. This designated area must remain open so that our buses are able to park and unload/load students safely. When this area is blocked by parked vehicles it can lead to delays in bus arrival and departure times. Your attention to this matter is greatly appreciated.

All Chatham Central schools will operate on a regular schedule for Monday, September 11, 2023. All Kindergarten students should report for a full day of classes.

All scheduled games will be played as scheduled today, Friday, September 8. There will be no practices. Varsity football at home vs Stillwater at 7pm. Girls Varsity volleyball vs Albany Leadership at 5pm. Boys varsity soccer at New Lebanon Tournament at 5pm. Golf vs Maple Hill at 4:15pm. All other teams that do not have games today can not practice (not allowed). If anything changes due to potential weather, coaches will contact players and families.

All Chatham CSD schools and offices are closed today, Friday, September 8, due to power outages and storm damage in the area.

Our buses are running about 10-15 minutes behind schedule this afternoon, Thursday, September 7 due to it being the first day of school and it taking us longer than usual to get our students onto the buses. We apologize for any inconvenience this may cause.

Welcome Back! Our first day of classes is Thursday, September 7! Families, send us your first day photos so we can post them to our website and Facebook page. Email them to
charbonneaua@chatham.k12.ny.us

Chatham CSD buildings and offices will be closed Monday, September 4 in observance of the Labor Day holiday. Enjoy the long weekend!

MED's Watermelon Welcome Back is Tuesday, September 5 from 4:30-5:30 p.m. Mrs. Reno & Mrs. Muscato welcome all MED families to join them on the playground for a slice of watermelon and a chance to say hello!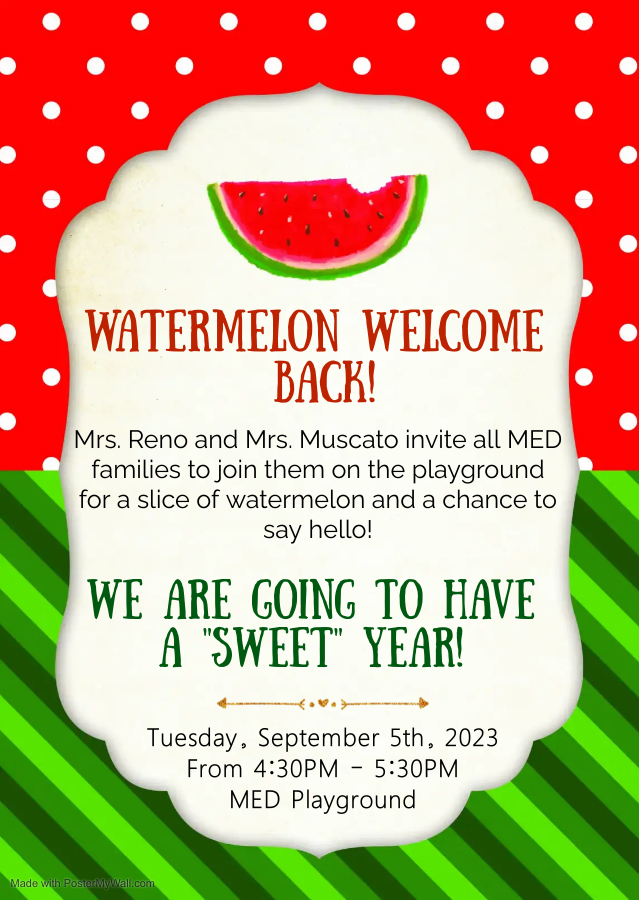 We have found a girls tennis coach! Practice/tryout times are Monday, Aug 21 through Friday, Aug 25 from 9:00-10:30am at the HS tennis courts.

6th Grade Locker Day (for 6th grade families only) is August 30 from 8:30-930 a.m. 6th graders accompanied by a parent/guardian are welcome to visit CMS, try out your locker combination, decorate your locker, and leave your new school supplies in your locker!

Equipment handout for modified football will be August 15 at 6:00 p.m. in the CHS football locker room.

Food, fun, and games! MED PTA Back To School Supply Drive Touch A Truck Event is August 12, 10am-1pm at Crellin Park. Free touch a truck event featuring community businesses and organizations, bring school supplies to donate. New to school or taking the bus? The CCSD transportation department will have a bus for kids to see and ask questions about before the first day of school.

Chatham CSD schools and offices will close at noon today, July 27, 2023 due to the forecast for severe weather in our area.

If you are in need of a physical for fall sports, physicals will be offered August 16 & 30 from 8:30 - 10:00 a.m. in the CHS nurse's office.