Parents and Guardians, today we practiced lockdown drills in all three of our school buildings. We were assisted by officers from local law enforcement and other first responders. The students and staff handled the drill very well and we would like to commend everyone on their attention to the matter. It is important that we periodically practice these drills as part of our regular safety procedures. Schools in New York are required to conduct a minimum of four lockdown drills each school year. While we had to change how we handled lockdown drills due to the pandemic, today marked a return to conducting these drills based on pre-pandemic protocols. If you have any questions, please contact your building principal or my office. Sincerely, Salvatore DeAngelo, Ed.D., MBA - Superintendent

Chatham CSD will be holding a public information session about the Capital Improvement Project proposal the District is developing Monday, November 28, 6:00 p.m. in the CHS library. School officials and architects from SEI Design Group will provide an overview of the project. The presentation will last approximately ½ hour and will be followed by a question and answer session and an opportunity for residents to take a brief guided tour of the areas in the High School that would be most impacted by the proposed renovations. The presentation can also be viewed live at
https://us02web.zoom.us/j/83976585762
. Please note the livestream will provide passive viewing only, viewers will not be able to comment or ask questions.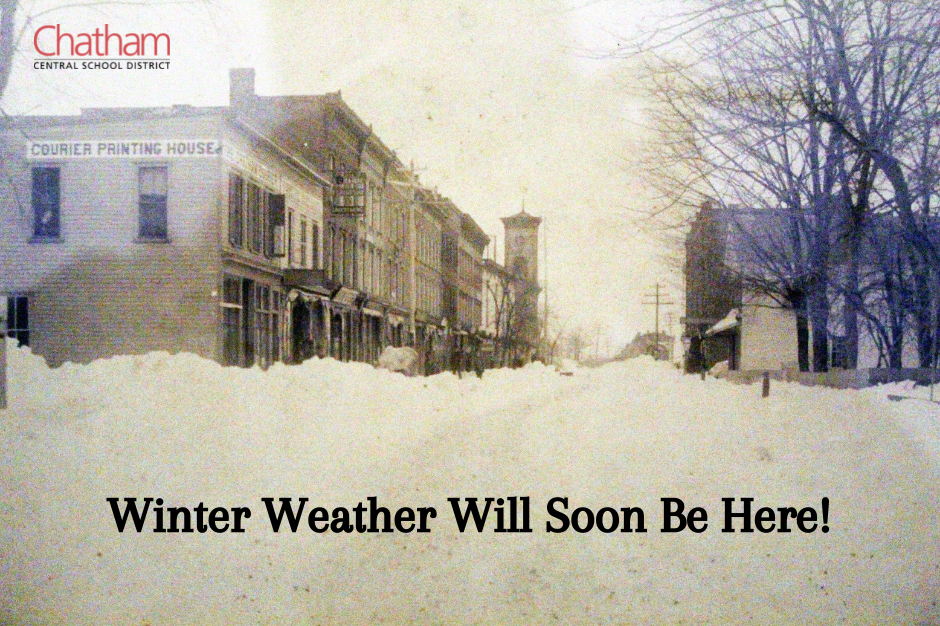 Dear Chatham families, Chatham CSD is providing a transportation option for any walkers who will be affected by the closure of the Woodbridge Avenue railroad crossing. We will be providing a bus to transport students from the Chatham Firehouse to school and back on Thursday, November 17, Friday, November 18, and Monday, November 21. Morning: Students should arrive at the Chatham Firehouse parking lot on Hoffman St. no later than 7:15 a.m. to catch the bus to school. The bus will stop at CMS and then MED/CHS to let students off. Afternoon: The bus will pick up students from each school at dismissal and will drop them off at the Chatham Firehouse parking lot. We are providing this temporary shuttle to ensure our walkers have a safe way to get to and from school during the railroad crossing closure. Taking this bus is optional and no registration is necessary. If you have questions, please contact our supervisor of transportation services, Joshua Loeffler, at 518-392-1520 or
loefflerj@chatham.k12.ny.us
.

The railroad crossing on Woodbridge Ave. will be closed to traffic and pedestrians November 17-21, 2022 while CSX conducts work on the tracks. This will affect traffic patterns in the area as vehicles will not be able to access our schools from the Route 203 end of Woodbridge Ave. Please take this into consideration if driving or walking to our campus and allow yourself ample time to take an alternate route.

Our varsity football team is headed to the Class D sectional final! Spectators should purchase tickets in advance at
https://gofan.co/app/events/706699?schoolId=NYSPHSAAII
- Chatham plays Cambridge/Salem on Saturday, November 12, 1:00 p.m. at Schuylerville High School. Go Panthers!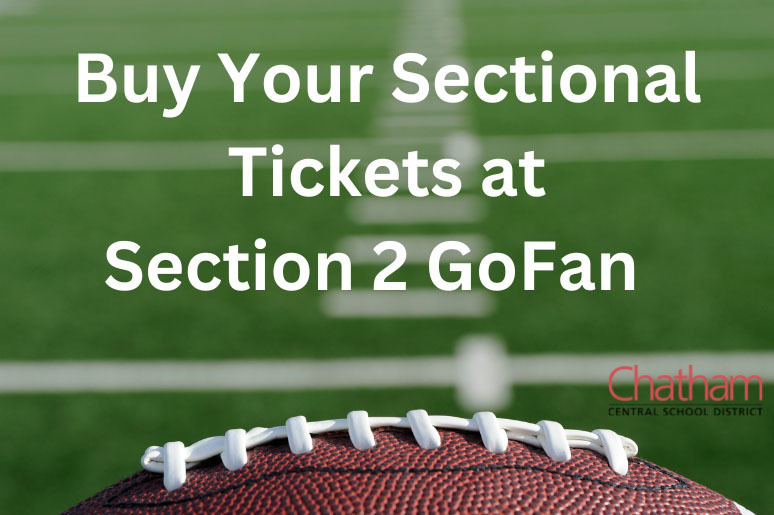 Tickets for the Class D cross country sectional championships this Saturday, November 5, 2022 can be purchased on the Section 2 GoFan site
https://gofan.co/app/school/NYSPHSAAII
. Our boys compete at 11:30 a.m. and our girls compete at 1:30 p.m. at the Queensbury Union Free School District, 455 Aviation Road in Queensbury. Go Panthers!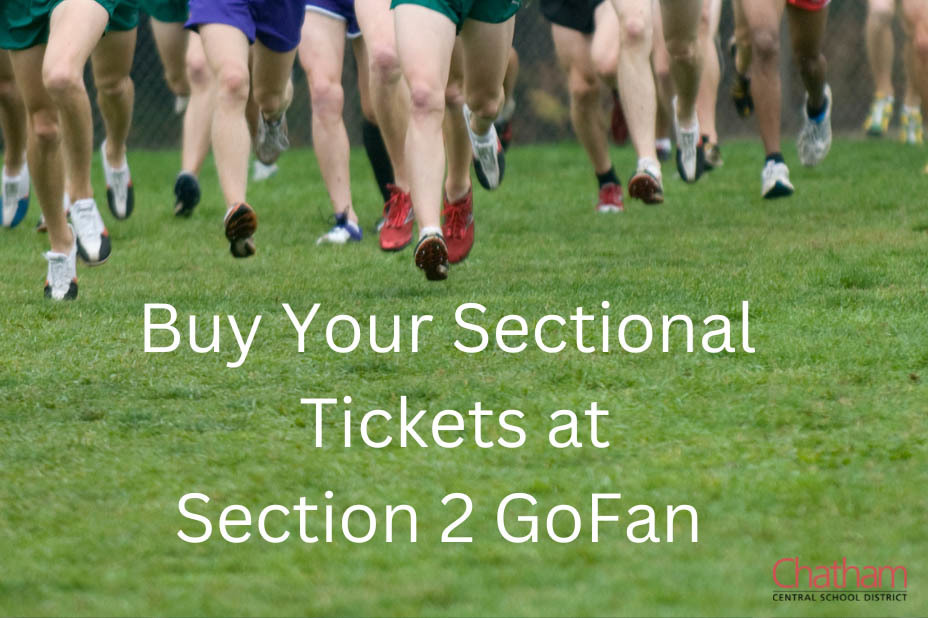 The MED PTA Trunk or Treat is this Saturday, October 29, 5-7pm in the MED parking lot! Participants: While the event is free, the PTA is asking for a $5 per family suggested donation. Children must be supervised at all times. We want to make sure there are enough goodies for everyone. As such, please help your children to be responsible and neighborly by only "trick or treating" one time at each vehicle. Candy Donations: The PTA is seeking donations of candy or similar Halloween themed items (pencils etc.) for Trunk or Treat. Each child who donates will receive $5 in Scholastic bucks to use at the November book fair. Please label any donations with your child's name and classroom teacher so that the PTA can ensure they receive their Scholastic bucks. Donations are requested by 10/27. Vehicles: If you are interested in decorating a vehicle, please sign up by 10/25 by contacting the PTA via email (
chathammedpta@gmail.com
) or through the PTA Facebook page
https://www.facebook.com/Chatham-MED-PTA-742497605832071
. Please plan to arrive early so that you are set up by the start time of 5pm. Thank you!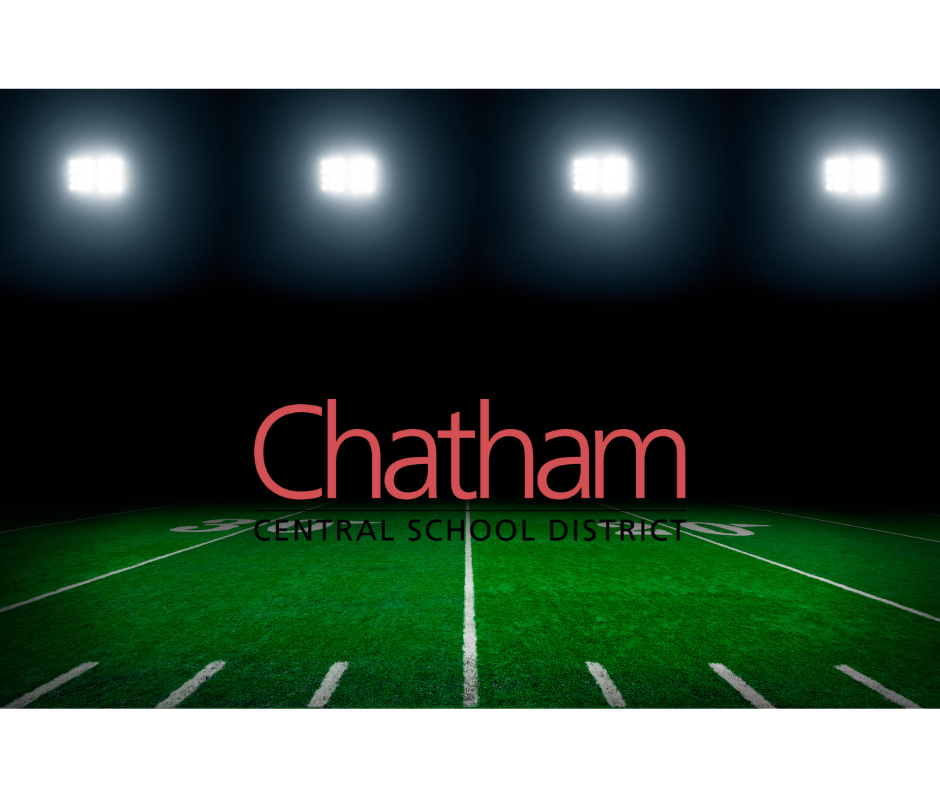 Chatham's annual PowderPuff Football Game is Tuesday, November 1, 6:30 p.m. at CHS (rain date is November 3). Grades 9-12 each have a team that will compete for the honor of being named PowderPuff champion! The food booth will be open with lots of hot foods, drinks, and desserts. Admission is by $2 suggested donation and proceeds go to support our senior class.

Come out to the Dairy Queen in Ghent on Friday, November 4 from 3-7pm to help raise money for the 7th grade. DQ is generously donating 20 percent of its proceeds at that time. Be sweet - all you have to do is eat!


The issues with our phone service have been fixed. Thanks for your understanding!

Please note that we are experiencing issues with our phone service. If you need to reach us, please dial our main number, 518-392-2400, and follow the prompts to reach the extension you wish to speak with. Several of our direct phone lines into the District are not working and we are unable to make outgoing calls, but we are able to receive calls through our main number. We are working with our phone service provider to have the problem fixed as soon as possible.

Calendar Update: The Have A Bite fundraiser on November 27, 2022 has been canceled.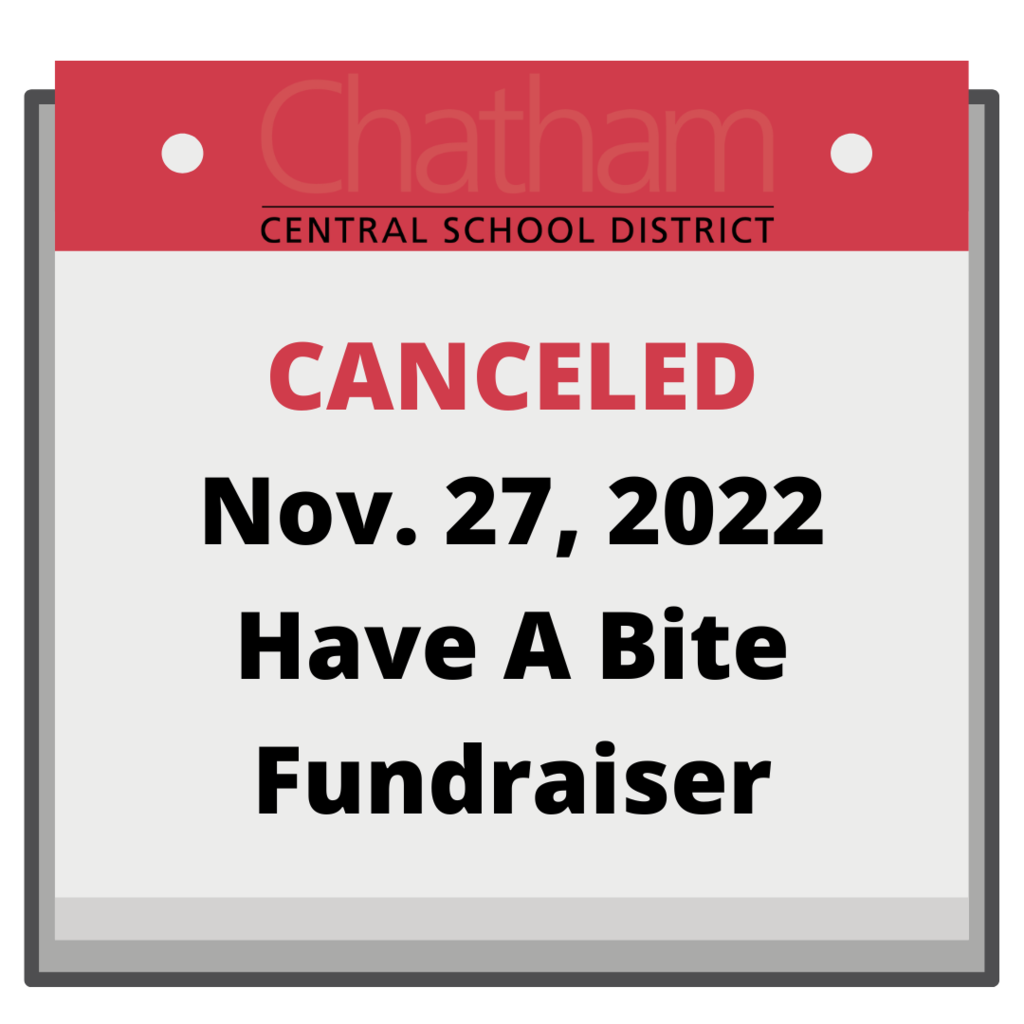 Calendar Update: Our Grade 4/5 Musical has been rescheduled to May 19 & 20, 2023. Time and location remain the same - 7pm May 19 & 2pm May 20 in the CMS auditorium. Be sure to mark your calendars!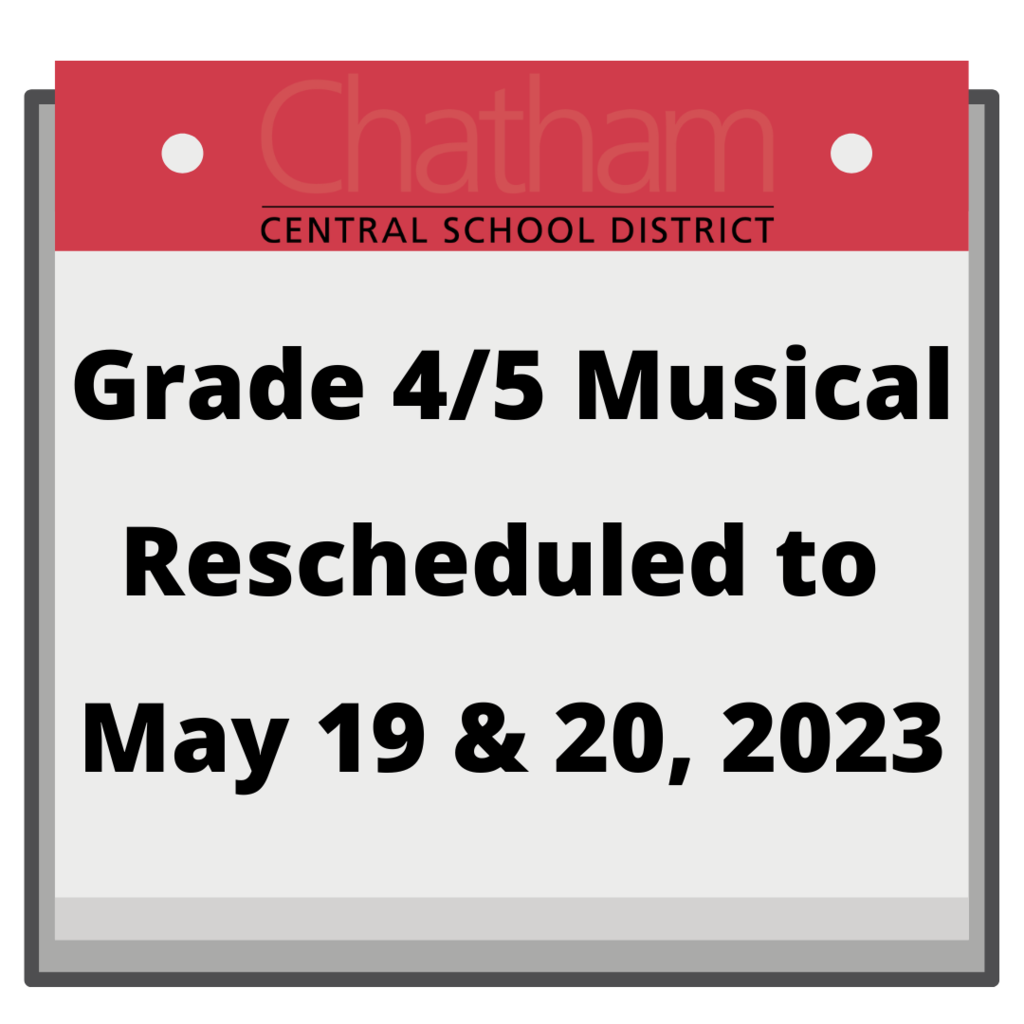 Today's (10/13) girls varsity soccer game at Taconic Hills has been moved to 7:00 p.m. tonight. Today's boys varsity soccer game is canceled.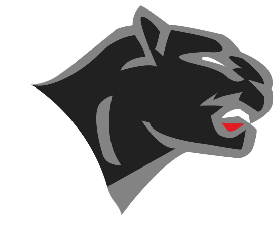 We are need of a boys JV basketball coach. If you are interested, please reach out to our athletic director, John Brantley, at
Brantleyj@chatham.k12.ny.us
to learn more!

We are in real need of varsity & modified boys volleyball coaches. The season starts November 14 and we do not want to have to cancel this season due to no coaches as it would greatly affect our boys volleyball program! If you are interested, please reach out to our athletic director, John Brantley, at
Brantleyj@chatham.k12.ny.us
to learn more!

Now hiring: Chatham Public Library Director – Immediate full-time position for our very active library in our vibrant community. Public Librarian Certification, plus 3 years of library management experience required. If interested, please submit a letter outlining qualifications, resume and 3 reference letters, no later than October 31, 2022, to Dr. Sal DeAngelo, Superintendent, Chatham Central School District, 50 Woodbridge Avenue, Chatham, NY 12037.