NYS Senator Daphne Jordan (43rd Senate District) paid a special visit to our Board of Education meeting on July 11 to present a legislative proclamation honoring Chatham's varsity baseball team for winning the NYS Class C championship title!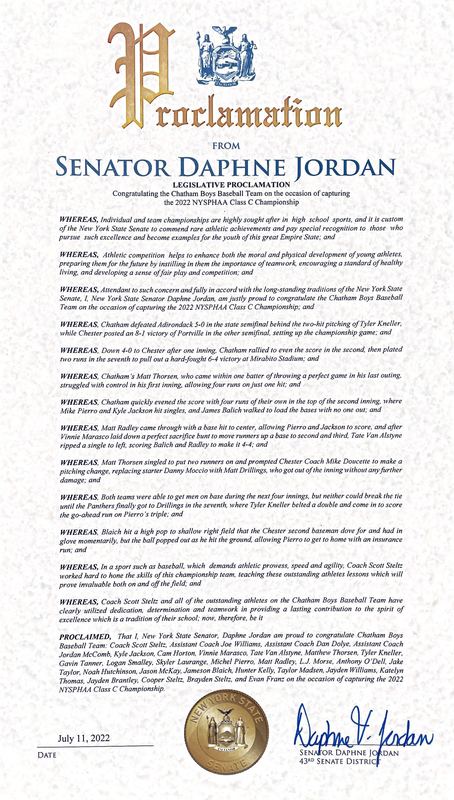 PROCLAMATION FROM SENATOR DAPHNE JORDAN LEGISLATIVE PROCLAMATION Congratulating the Chatham Boys Baseball Team on the occasion of capturing the 2022 NYSPHAA Class C Championship
WHEREAS, Individual and team championships are highly sought after in high school sports, and it is custom of the New York State Senate to commend rare athletic achievements and pay special recognition to those who pursue such excellence and become examples for the youth of this great Empire State; and
WHEREAS, Athletic competition helps to enhance both the moral and physical development of young athletes, preparing them for the future by instilling in them the importance of teamwork, encouraging a standard of healthy living, and developing a sense of fair play and competition; and
WHEREAS, Attendant to such concern and fully in accord with the long-standing traditions of the New York State Senate, 1, New York State Senator Daphne Jordan, am justly proud to congratulate the Chatham Boys Baseball Team on the occasion of capturing the 2022 NYSPHAA Class C Championship; and
WHEREAS, Chatham defeated Adirondack 5-0 in the state semifinal behind the two-hit pitching of Tyler Kneller, while Chester posted an 8-1 victory of Portville in the other semifinal, setting itp the championship game; and
WHEREAS, Down 4-0 to Chester after one inning, Chatham rallied to even the score in the second, then plated two runs in the seventh to pull out a hard-fought 6-4 victory at Mirabito Stadium; and
WHEREAS, Chatham 's Matt Thorsen. who came within one batter of throwing a perfect game in his last outing, struggled with control in his first inning, allowing four runs on just one hit; and
WHEREAS, Chatham quickly evened the score with four runs of their own in the top of the second inning, where Mike Pierro and Kyle Jackson hit singles, and James Bolich walked to load the bases with no one out; and
WHEREAS, Matt Radley came through with a base hit to center, allowing Pierro and Jackson to score, and after Vinnie Marasco laid down a perfect sacrifice bunt to move runners up a base to second and third, Tate Van Alstyne ripped a single to left, scoring Bolich and Radley to make it 4-4; and
WHEREAS, Matt Thorsen singled to put two runners on and prompted Chester Coach Mike Doucette to make a pitching change, replacing starter Danny Moccio with Matt Drillings, who got out of the inning without any further damage; and
WHEREAS, Both teams were able to get men on base during the next four innings, but neither could break the tie until the Panthers finally got to Drillings in the seventh, where Tyler Kneller belted a double and come in to score the go-ahead run on Pierro 's triple; and WHEREAS, Blaich hit a high pop to shallow right field that the Chester second baseman dove for and had in glove momentarily, but the ball popped out as he hit the ground, allowing Pierro to get to home with an insurance run; and
WHEREAS, In a sport such as baseball, which demands athletic prowess, speed and agility, Coach Scott Steltz worked hard to hone the skills of this championship team, teaching these outstanding athletes lessons which will prove invaluable both on and off the field; and WHEREAS, Coach Scott Steltz and all of the outstanding athletes on the Chatham Boys Baseball Team have clearly utilized dedication, determination and teamwork in providing a lasting contribution to the spirit of excellence which is a tradition of their school; now, therefore, be it
PROCLAIMED, That I, New York State Senator, Daphne Jordan am proud to congratulate Chatham Boys Baseball Team: Coach Scott Steltz, Assistant Coach Joe Williams, Assistant Coach Dan Doyle, Assistant Coach Jordan McComb, Kyle Jackson, Cam Horton, Vinnie Marasco, Tate Van Alstyne, Matthew Thorsen, Tyler Kneller, Gavin Tanner, Logan Smalley, Skyler Laurange, Michel Pierro, Matt Radley, L.J. Morse, Anthony 0 'Dell, Jake Taylor, Noah Hutchinson, Jason McKay, Jameson Blaich, Hunter Kelly, Taylor Madsen, Jayden Williams, Katelyn Thomas, Jayden Brantley, Cooper Steltz, Brayden Steltz, and Evan Franz on the occasion of capturing the 2022 NYSPHAA Class C Championship.
Date: July 11, 2022