The 6th Grade Concert has been rescheduled to Tuesday, January 31, 7pm in the CMS auditorium.

All Chatham CSD schools will dismiss early today, Wednesday, January 25 due to weather. Dismissal times are as follows: CMS 12:20, MED 12:30, CHS 12:32. All after-school and evening activities are canceled.

All Chatham CSD schools and offices are closed today, Monday, January 23, due to the winter storm warning in effect throughout the day and travel conditions throughout the District. The Capital Project Information Session scheduled for this evening will be postponed to Monday, January 30, 2023.

All after-school activities are canceled today, Thursday, January 19, due to the forecast for inclement weather. We will continue to monitor the weather and will notify you if there are any additional changes.

All Chatham CSD schools will dismiss early today, Friday, December 23, based on the expected weather conditions later this afternoon. Schools will dismiss at the following times. CMS - MED - 12:20 p.m. MED - 12:30 p.m. CHS - 12:32 p.m. All District Offices will also close at 2:00 p.m. today. Please travel home safely and have a great holiday season.

Due to the weather forecast for tomorrow afternoon, there will be no late buses or after-school activities on Friday, December 23, 2023. Happy Holidays!

Dear CCSD Parents/guardians, CCSD has received additional COVID-19 at-home rapid antigen test kits from NYS, which we will be sending home with all students by Friday, 12/23/22. We are asking that students and staff not feeling well test prior to returning on January 3, 2023. Taking part in testing is voluntary. We would like to take this opportunity to wish you all healthy, safe and happy holidays! Sincerely, Dr. Sal DeAngelo, Superintendent of Schools

All Chatham CSD schools are closed today, Friday, December 16 due to the winter storm warning in effect throughout the day and travel conditions in the higher elevations of the District.

Chatham Middle School's Senior Citizen Luncheon has been rescheduled to Monday, December 19 due to the prediction for inclement weather this Friday. Times remain the same: Registration is at 9:45 a.m., concert in library is at 10:05 a.m., and luncheon is at 10:55 a.m.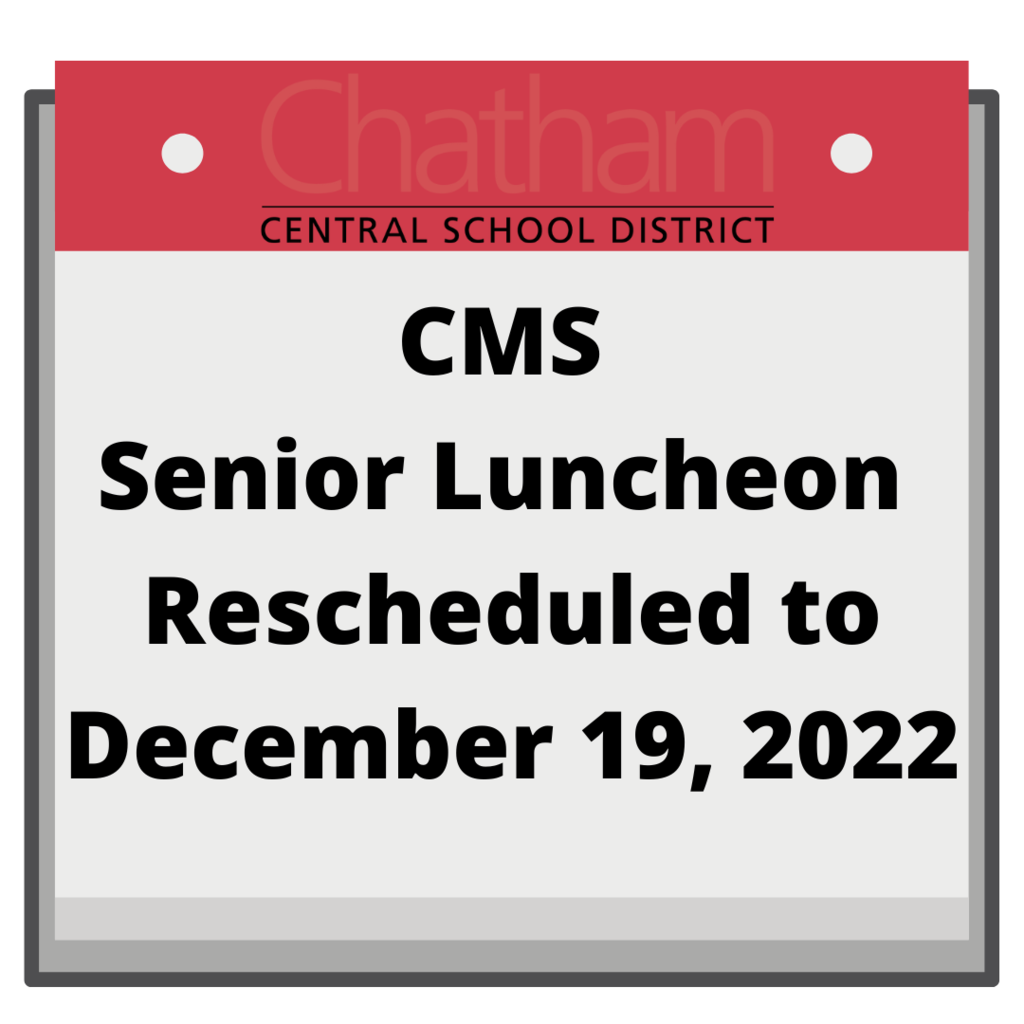 CMS & CHS will open on on a two-hour delay today, Monday, December 12.

Dear Chatham families, Chatham CSD is providing a transportation option for any walkers who will be affected by the closure of the Woodbridge Avenue railroad crossing. We will be providing a bus to transport students from the Chatham Firehouse to school and back on Thursday, November 17, Friday, November 18, and Monday, November 21. Morning: Students should arrive at the Chatham Firehouse parking lot on Hoffman St. no later than 7:15 a.m. to catch the bus to school. The bus will stop at CMS and then MED/CHS to let students off. Afternoon: The bus will pick up students from each school at dismissal and will drop them off at the Chatham Firehouse parking lot. We are providing this temporary shuttle to ensure our walkers have a safe way to get to and from school during the railroad crossing closure. Taking this bus is optional and no registration is necessary. If you have questions, please contact our supervisor of transportation services, Joshua Loeffler, at 518-392-1520 or
loefflerj@chatham.k12.ny.us
.

The railroad crossing on Woodbridge Ave. will be closed to traffic and pedestrians November 17-21, 2022 while CSX conducts work on the tracks. This will affect traffic patterns in the area as vehicles will not be able to access our schools from the Route 203 end of Woodbridge Ave. Please take this into consideration if driving or walking to our campus and allow yourself ample time to take an alternate route.

Come out to the Dairy Queen in Ghent on Friday, November 4 from 3-7pm to help raise money for the 7th grade. DQ is generously donating 20 percent of its proceeds at that time. Be sweet - all you have to do is eat!

The issues with our phone service have been fixed. Thanks for your understanding!

Please note that we are experiencing issues with our phone service. If you need to reach us, please dial our main number, 518-392-2400, and follow the prompts to reach the extension you wish to speak with. Several of our direct phone lines into the District are not working and we are unable to make outgoing calls, but we are able to receive calls through our main number. We are working with our phone service provider to have the problem fixed as soon as possible.

Reminder! October 26 is School Picture Day at CMS. You may order online at
www.upstate-images.com
using picture ID: NY2800622 or have your child bring in the order form on picture day. The order forms were distributed October 17!

We are in real need of varsity & modified boys volleyball coaches. The season starts November 14 and we do not want to have to cancel this season due to no coaches as it would greatly affect our boys volleyball program! If you are interested, please reach out to our athletic director, John Brantley, at
Brantleyj@chatham.k12.ny.us
to learn more!

CMS Spirit Week is Oct. 17-22! Monday: "Put Bullying to Rest Day" - Wear pajamas and slippers; Tuesday: "We All Rock Day" - Wear a music/famous band shirt or dress like a celebrity; Wednesday: Wear Orange for Unity Day; Thursday: "It's OK to be Different Day" - Mismatch all your clothes: Friday: " Put Bullying in the Past" - Dress like you are in the 70s or 80s! Key Communicators will record HR participation every day! A pizza party will be given to the HR with the most participation.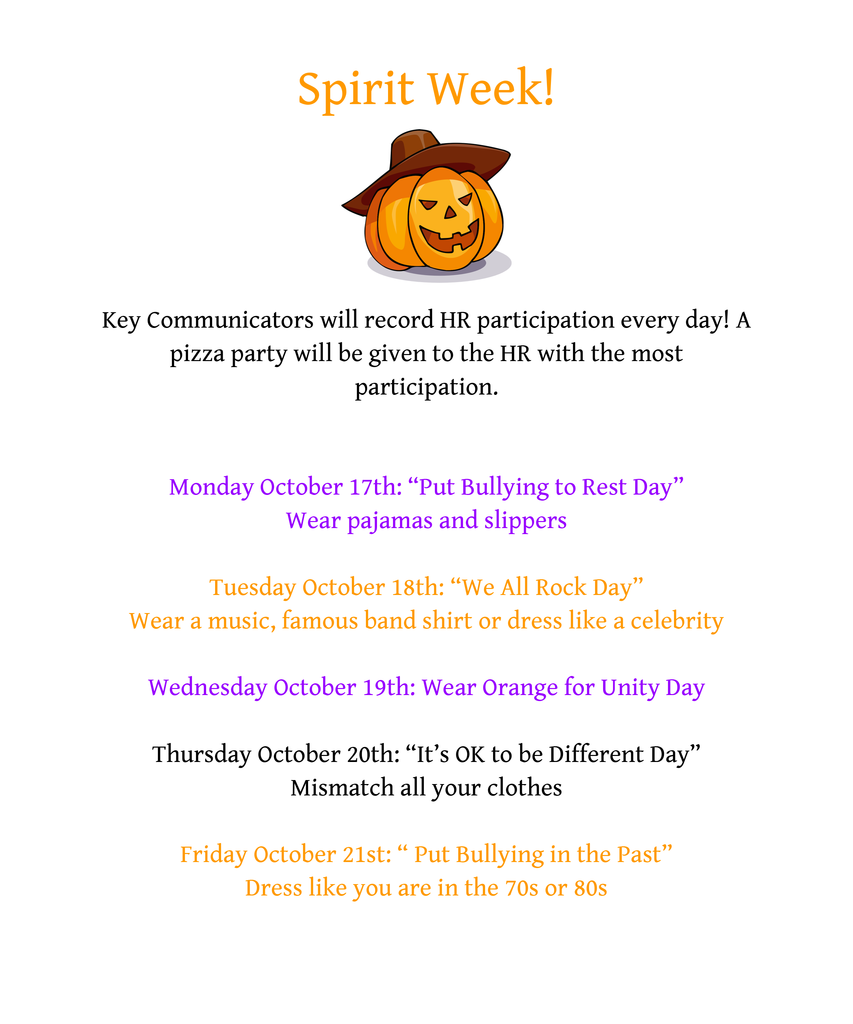 Attention winter athletes: Sports physicals are scheduled for October 19 and November 9 at 8:30 a.m. Please see your school nurse to sign up.