The Chatham CSD Music Department hosts our annual Music in the Park community concert this Thursday, June 9, 6:00 p.m. on the lawn near the Chatham High School gym. Bring a lawn chair or blanket and enjoy some lively music performed by ensembles from Chatham High School and Chatham Middle School. This event is free and open to the entire community. Hot dogs, hamburgers, ice cream and soda are available for purchase. Music in the Park takes place rain or shine; in the event of rain the concert will move into the CHS gym.

Congratulations to our varsity baseball team, which has advanced to the Class C Regionals! Chatham takes on Norwood-Norfolk this Saturday, June 4, 3:00 p.m. at the East Side Recreation Park, 226 Lake Ave., Saratoga Springs, NY 12866. Buy tickets at:
https://gofan.co/app/events/607408?schoolId=NYSPHSAAII
Go Panthers!

We have just received word that the baseball field in Plattsburgh is flooded and this afternoon's (June 2) Class C Regional Semifinal has been relocated to the Bolton Ballfield, 87 Finkle Road in Bolton Landing, NY 12814. The game is still scheduled to be played at 4:00 pm and tickets purchased for the game are good at the new location. Unfortunately, the game will not be livestreamed . Directions are available on the Bolton CSD website at:
https://www.boltoncsd.org/district/directions/bolton_ball_field
Go Panthers!

Congratulations to our varsity baseball team for advancing to the Class C Regional Semi-Finals taking place Thursday, June 2, 4:00 p.m. at SUNY Plattsburgh. Get your tickets at
https://gofan.co/nysphsaa7
Go Panthers!


Greetings CHS Families, As you may have heard by now, the New York State Education Department has chosen to cancel the US History Regents Exam this year. The decision to cancel is based on the content of the exam and the concern that several items may exacerbate the stress and anxiety related to the Buffalo shootings a couple of weeks ago. These exams are developed years in advance, so there is no opportunity to create a new exam in time for the June testing session. Here are some important details to note: #1: June 1st is now a regular day of attendance for all students. #2: It is looking like this year's Juniors and any Seniors who needed the US History Exam for graduation, will be exempt from passing this exam this year. Nothing has officially been communicated to schools about this exemption at this point. We are waiting for the exact guidance and we will communicate the plan as soon as we have the correct information. At this time, we plan on giving the students a locally developed final that will count for 15% of the final grade. Exact details will be shared as soon as we hear from the State Education Department. Sincerely, John Thorsen & Michael Burns


The Panthers have advanced to the Section 2 baseball finals this Thursday, May 26, 7:00 pm at the Joe Bruno Stadium in Troy! Tickets are now available and should be purchased on the Section 2 GoFan site
https://gofan.co/app/school/NYSPHSAAII
Go Panthers!


Our alumni from the classes of 1970, 1971 and 1972 are invited to be honored guests at Chatham's Class of 2022 commencement. Having graduates from 50 years prior be part of the ceremony is a long-held tradition at Chatham graduations. Due to the pandemic, that tradition was put on hold in 2020 and 2021, so alumni who celebrated their 50-year anniversary in those years as well as those who will in 2022 are invited to be part of this year's ceremony. Commencement for the Class of 2022 is Friday, June 24 at 6:00 p.m., followed by a graduation parade through the Village of Chatham immediately following the ceremony. If you are interested in attending, please RSVP by contacting Diane Hammon in the superintendent's office at 518-392-1502 or
hammond@chatham.k12.ny.us
.

The State Education Department has identified June 1st as the day we must administer the US History Regents Exam. In order to create an adequate and appropriate testing environment we will be bringing the Junior Class in first thing, as usual, and we will begin testing at 8am. All 9th grade, 10th grade and 12th grade students will be on home instruction for the day. Teachers will be reaching out with directions for their students and more details will be heard, in the next week, to include information and direction from our students involved in the Quester vocational program.

Calendar Update: All CCSD schools and offices will be closed on Friday, May 27, 2022. We are modifying the calendar because we do not anticipate needing all of the emergency closing days that were planned for the 2021-2022 school year. If you have any questions, please feel free to contact your child's school office. Please be sure to update your calendars with this change!

Hello Families, A reminder that AM & PM Questar classes in Hudson will be held, as usual, on Thursday (4/14/2022). The district will provide transportation from the High School to Questar and back to the High School to any students who may need it. Please contact the main office (518)392-1570 if you are in need of transportation by Wednesday, April 13 at 12:00pm.

The CHS Senior Expo/Awards Night has been scheduled for Wednesday June 8, 2022 starting at 6:00 p.m. Be sure to update your calendars!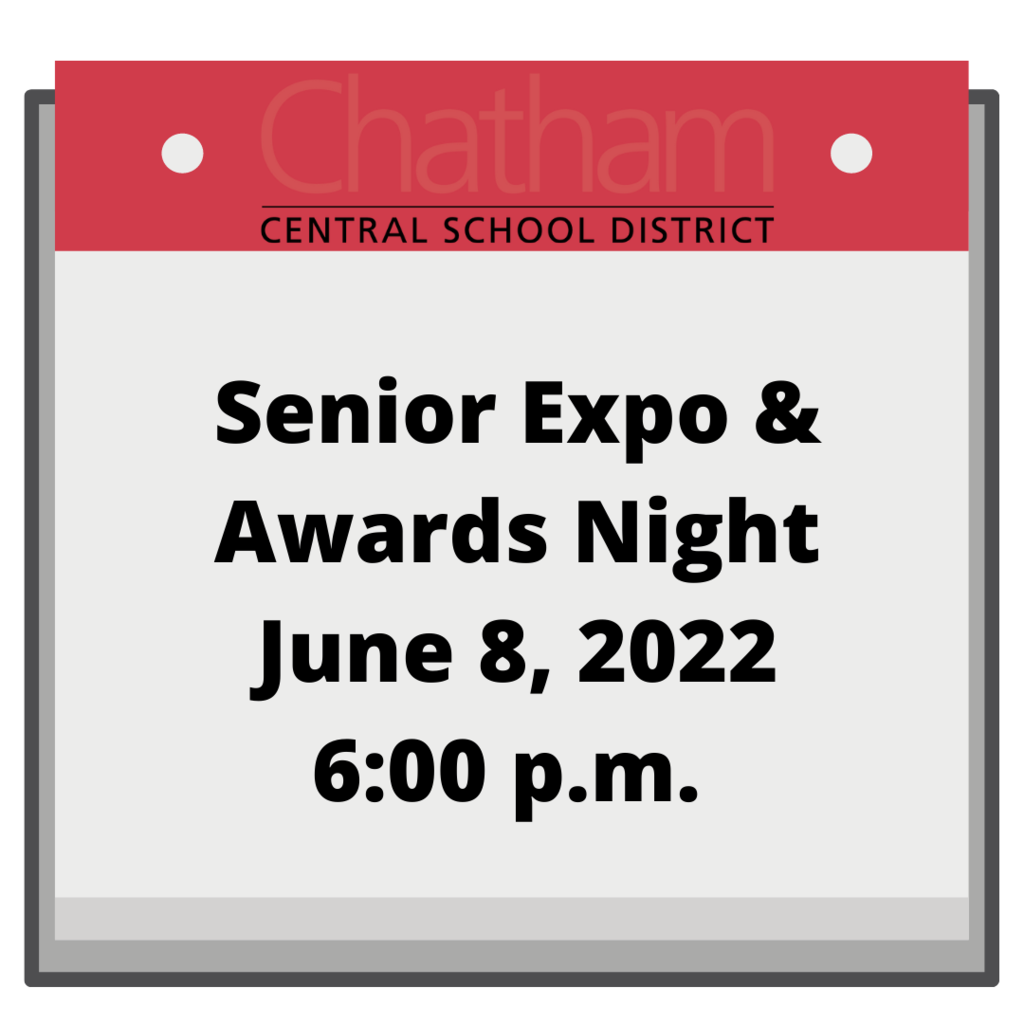 Our 3rd mandatory bus drill at CHS & CMS, originally scheduled for March 8, has been rescheduled to Thursday, March 24. CHS will dismiss all students early at 2:20 p.m. CMS will dismiss students at the regular time. Please be sure to update your calendars!

The Saturday, March 12, 2022 performance of "Little Women" is canceled due to the winter storm.

All CCSD after-school activities are canceled for today, Wednesday, March 9, 2022, due to the winter weather.

March 8, 2022: Out of an abundance of caution, all Chatham Central schools are exercising a lockout for the remainder of the school day. There is no threat and students were never in any danger. The lockout is due to an empty shell casing found on the MED playground this afternoon. Police have investigated and found no credible threat. As a precaution, outside activities are suspended until time of dismissal, indoor activities will continue as normal. After-school activities will be held as normal.

Attention AM VOTEC students & families, There will be no AM VOTEC this Wednesday March 9, 2022. AM VOTEC students are expected to be here by 11:30AM for their regularly scheduled 6th period class. AM VOTEC students are welcome to spend their morning here in the building. They will be placed in a study hall in the Cafeteria or the Library.